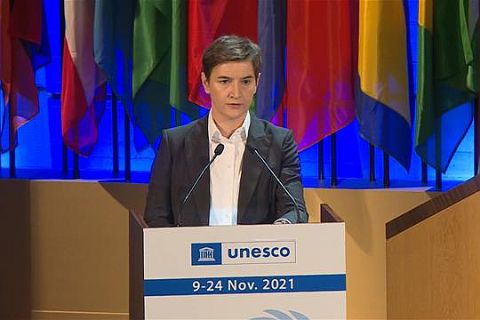 Prime Minister Ana Brnabic stated today that severe examples of endangering the Serbian cultural, historical and spiritual heritage in Kosovo and Metohija are proof of the important role of UNESCO in protecting and preserving heritage.
At the 41st session of the General Conference of UNESCO in Paris, Brnabic emphasized that four jewels of the Serbian medieval cultural heritage in Kosovo – Visoki Decani, Pec Patriarchate, Gracanica and Bogorodica Ljeviska, have been preserved thanks to the fact that they are inscribed on the endangered world heritage list. Hundreds of other sites and monuments are endangered.
The Serbian heritage in Kosovo and Metohija is of immeasurable importance, not only for the national identity of Serbia, but also as a part of the esteemed European and world heritage, she underlined.
Source/Photo: www.srbija.gov.rs
Rolul important al UNESCO în conservarea moștenirii culturale sârbe în Kosovo și Metohija
Prim-ministrul Republicii Serbia, Ana Brnabić a declarat astăzi că exemplele severe de punere în pericol a patrimoniului cultural, istoric și spiritual sârb în Kosovo și Metohija sunt dovada a cât de important este rolul UNESCO în protejarea și conservarea acestei moșteniri.
La cea de-a 41-a sesiune a Conferinței Generale UNESCO de la Paris, Brnabić a subliniat că cele patru bijuterii ale patrimoniului cultural medieval sârbesc din Kosmet - Visoki Dečani, Patriarhia Peć, Gračanica și Bogorodica Ljeviška (Maica Domnului din Ljeviš), au fost păstrate datorită faptului că sunt înscrise pe lista patrimoniului mondial pe cale de dispariție, dar că există alte sute de situri/localități și monumente care sunt puse în pericol.
Moștenirea culturală sârbă din Kosovo și Metohija este de o importanță incomensurabilă nu numai pentru identitatea națională a Serbiei, ci și ca parte a apreciatei moșteniri europene și mondiale, a subliniat ea.
Prim-ministrul a subliniat angajamentul Serbiei față de principiile de bază ale UNESCO - dialogului și consensului, bazate pe convenția ONU și pe poziția UNESCO, motiv pentru care pledăm în continuare pentru depolitizarea acestei organizații.