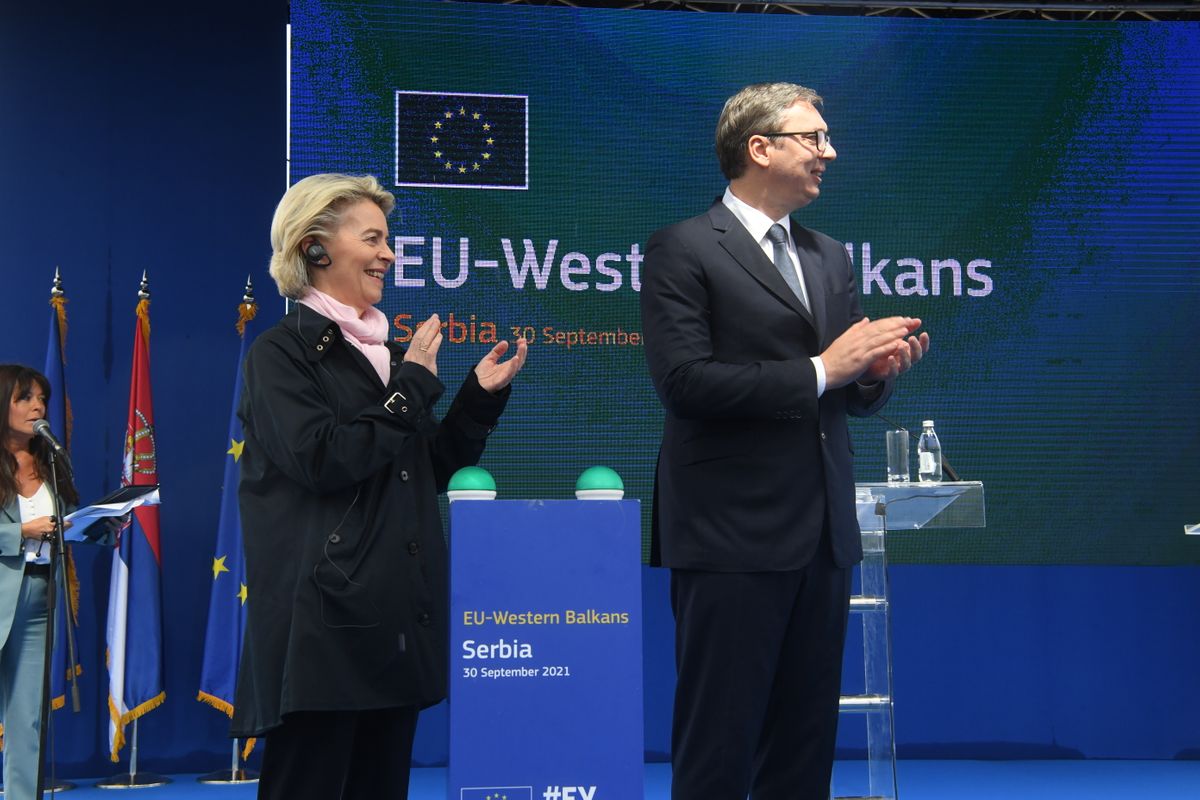 The President of the Republic of Serbia, Aleksandar Vučić and President of the European Commission, Ursula von der Leyen, have attended today the ceremony of the beginning of works on the modernization and rehabilitation of Niš-Brestovac railway at the international Corridor 10 as well as signing of the agreement between the Public Company Koridori Srbije and Consortium STRABAG AG and STRABAG d.o.o. Beograd on the construction of the first phase of the Highway of peace in the section Merošina – Merošina 1.
"In Donje Međurovo the 23km long railway is build and 75 percent of it will be financed by the European Union. It is enormous money for us, great encouragement and respect. This railway and highway are important both for us and Europe. I am very grateful to Mrs Von der Leyen for coming to Niš today and Niš becomes the center of all Balkan corridors, it becomes the Balkan crossroads", said President Vučić adding that Serbia was entirely committed to the implementation of the agreements signed so far under the auspices of the EU.
"We will do our best not only to preserve peace, but also to reach more agreements which would mean security of everyone in the Balkans and better life and economy for all of us. We know what our job is. As much as we can, taking into account the difficulties due to the relation with Priština, we will do everything to make progress on the European path", said President Vučić and thanked the President of the European Commission for kind words and wish to see Serbia in the EU.
The President of the European Commission, Ursula von der Leyen, emphasized that today Serbia had already gone a long way to the EU membership, it had made an incredible progress and efforts in the past years and improved conditions in different sectors. She said that she strongly supports the European integrations of Serbia.
"This is a very special moment. Signing of this agreement is a symbol of our great cooperation and projects of connections through which we jointly build our European future, because the future of Serbia in the European Union is better. The corridor connects Serbia to Austria and Greece and is really the driving force of economy. It is the driving force for the Serbian economy, investments, the economic plan which already functions in Serbia", said the President of the European Commission.
Source: www.predsednik.rs
Photo: Dimitrije Gol