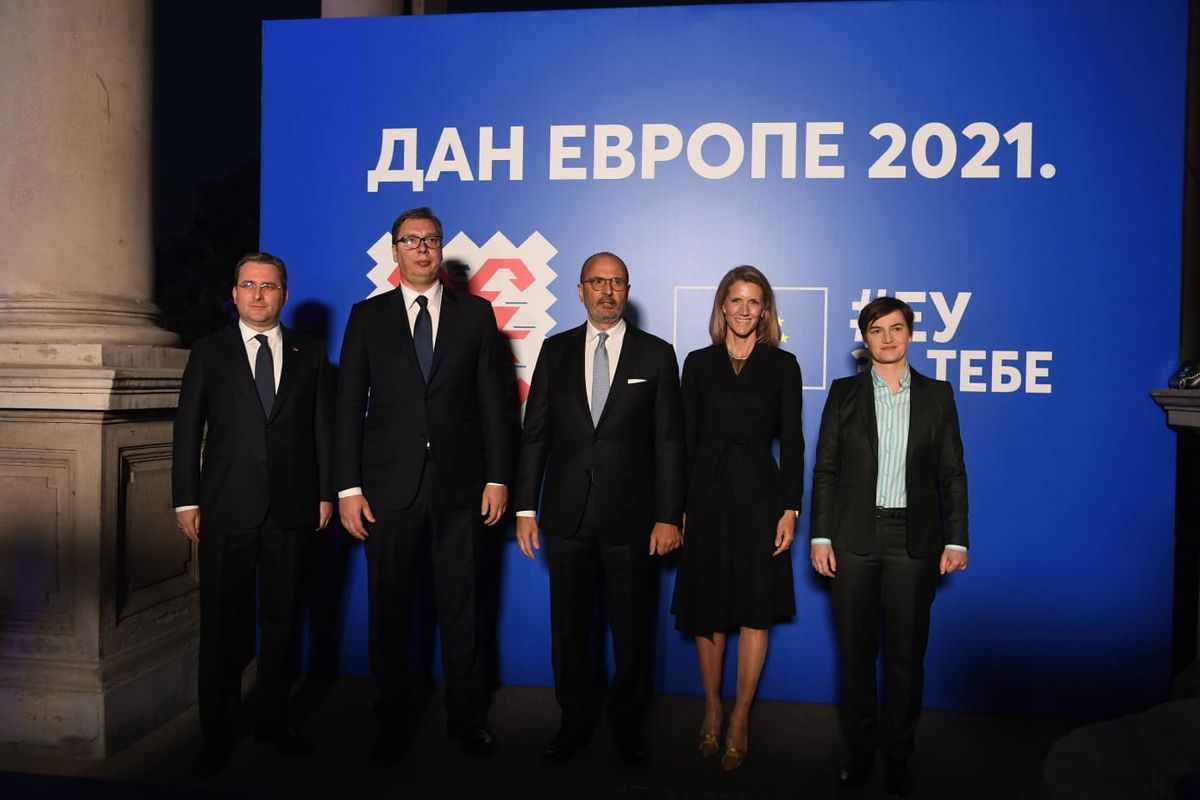 President Vucic said tonight that the visionary idea of Robert Schuman brought a true victory of the new trust after the Second World War and faith in the unification of differences in peace and solidarity, with the message that Serbia has that faith, as well as hope that it will become a country that will be gladly regarded in the European family of nations.
Congratulating everyone in Serbia and the EU on Europe Day, Vucic reminded that 9 May was also the day when the great victory of freedom is celebrated, which was won with huge sacrifices.
"While the horrors of war were still fresh in memory and Europe was healing the wounds of World War II, it also had people like Robert Schuman who understood that future can only be created based on the reconciliation of nations and their unity", Vucic said at the reception on the occasion of Europe Day.
He pointed out that the European peoples dared to see the recent adversaries as future allies.
"Schuman's visionary idea that peace will be preserved, if the creative forces are commensurate with the dangers that threaten, that Europe will emerge from specific achievements, has brought a true victory of newly found trust and faith in uniting differences in peace and solidarity", Vucic said.
He said that Serbia, although it did not always look like that, had that faith, as well as the hope that our concrete achievements, on the long and not easy path to EU membership, would be adequately valued.
"And that with your help, support and criticism, Serbia will become a country that you will be happy to see in the European community of nations. I believe that with our support, help and criticism, we would also contribute to the EU becoming an even better place to live", Vucic said.
Full membership of the EU, with a compromise solution to the issue of Kosovo and Metohija, is a way to achieve the goal and make Serbia orderly and successful, which would mean that we are on a good, European path, the President of Serbia said.
Vucic said that we still had to make a lot of efforts in reforms, not because someone is asking us to do that, but because we know that it brings us and the country a benefit.
He also pointed out that the reforms in the rule of law were exceptionally important, which were now being approached with much more responsibility.
"In our country, there is a race in who will say that they are more in favour of Europe, while saying under the table that they are the least for Europe. Europe does not belong only to those who would like to use European money, it does not belong to those in the government who say that they are on the European path because they believe that they are in that way preventing the opposition from coming to power, nor to those who think that this is the only way to get hold of power. It belongs to all of us, but we cannot take from Europe only what we like without accepting what we do not like", he explained.
I know, he added, how difficult it is to us in Serbia to hear criticism concerning Kosovo as well as in the field of the rule of law.
"I saw for myself that we are the ones who did not pay enough attention and apply a dedicated approach to the burning problems in that area. I believe that with greater zeal we will be able to change the attitude of the citizens of Serbia and gain greater respect from the EU for what we are doing", he pointed out.
President Vucic also pointed out that the EU was undoubtedly the largest donor, investor, and by far the most important trade partner of Serbia, and recalled that about two-thirds of all trade and even more service activities were EU related and that these were facts, whether someone liked it or not.
He pointed out that seven years ago when he became the Prime Minister, three times fewer people were employed in companies that came from EU countries than today.
"Despite all the problems, it shows how much we managed to do together and make good results, to provide people with life, security at work, to show that we can take care of them more", Vucic said, noting the great EU assistance in the field of education.
He said that during the recent visit to the EU, which he assessed as the best one so far, Serbia received additional support for infrastructure projects, primarily for modernization, i.e. essentially the construction of a new Belgrade-Nis-Presevo railway.
He said that this was confirmed in the letter of the President of the European Commission, Ursula von der Leyen, pointing out that this was the best letter he had ever received from Brussels.
"I am grateful to Von der Leyen for pointing out that this is a game-changer in our relations. It is a turning point because that support exceeds everything we have done together when you look at the scale, strength and significance of that project", he said.
He said that Serbia and its citizens considered Europe as their home and that is why we wanted to give our best contribution to peace through regional connectivity, the Berlin Conference and mini-Schengen.
"Encouraged by the message of European officials, I hope that I will be able to host them soon so that we can discuss the further acceleration of our European path", Vucic concluded.
Head of the Delegation of the European Union to Serbia Sem Fabrizi hosted a reception tonight on the occasion of marking 9 May, Europe Day. In addition to Serbian President Aleksandar Vucic, the reception in the Belgrade City Assembly was attended by Serbian Parliament Speaker Ivica Dacic, Serbian Prime Minister Ana Brnabic, Foreign Minister Nikola Selakovic, European Integration Minister Jadranka Joksimovic, representatives of the diplomatic corps and public figures.
Europe Day was established in memory of the beginning of the creation of the European Union (EU) and the Day of Victory over Fascism in the Second World War. The reception is held in memory of 9 May 1950, when the Schuman Declaration was signed, which laid the foundations of the European Union, a project that brought the longest period without war on the Old Continent.
Source: Tanjug
Photo: Tanjug