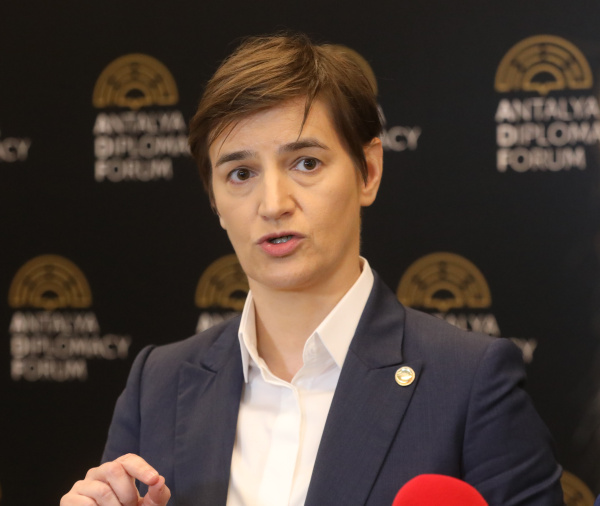 Prime Minister Ana Brnabic stated today, after the plenary meeting of the South-East European Cooperation Process (SEECP) held in Antalya, that the Joint Declaration, the Strategic Document for South-East Europe and the annual report of the Council for Regional Cooperation were unanimously adopted at this meeting.
Speaking to the press, Brnabic said that the plenary meeting was marked by two things – the fact that even Pristina voted for all documents, although Kosovo is marked in them with an asterisk, and also that President of the interim institutions in Pristina Vjosa Osmani referred to the Brussels Agreement at one moment.
Brnabic underlined that in the Strategic Document for South-East Europe, in every place where "Kosovo" is mentioned, it is marked with an asterisk and a footnote.
It is also interesting that at one moment Osmani invoked the Brussels Agreement and said that according to it, asterisk is not put every time, but only the first time "Kosovo" is mentioned.
We see now that the Kosovo side invokes the Brussels Agreement when it suites them, and when it doesn't suit them, then the agreement doesn't exist. That is why I hope they will finally return to the Brussels Agreement, first and foremost in order to form the Community of Serb Municipalities, the Prime Minister underlined.
That has been constructive from them today and totally contrary to everything it could be heard in the Pristina parliament – that they would not allow the adoption of such documents.
Brnabic said that the meeting with Turkish President Recep Tayyip Erdogan was very good and that Erdogan once more sent an invitation to Serbian President Aleksandar Vucic to visit Turkey.
www.srbija.gov.rs